Mac users who spend a lot of time at the command line have yet another reason to use iTerm 2 as their default terminal client; clipboard history. Added in the most recent version of iTerm, a running history of OS X clipboard activity can be natively stored, recalled, and summoned directly in iTerm2, accessible through a handy new feature panel called Toolbelt.

You'll need the latest version of iTerm 2 (you can grab the newest version here) to have access to the Toolbelt and Paste History features, then you just need to launch iTerm 2 and hit Command+Shift+B to summon the tool belt. Be sure the 'Paste History' option is enabled in Toolbelt menu to have the feature visible with a simple keystroke toggle.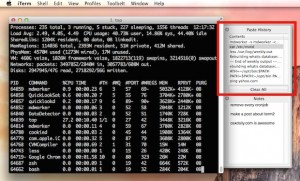 Choosing any Paste History entry will immediately re-enter the syntax where ever the prompt is located.
The clipboard history doesn't just store commands, it stores everything bound to the clipboard (including entries from pbcopy), making it perfect for holding onto everything from lengthy commands to code snippets and IP addresses. Sure, there are some great third party utilities like ClipMenu that will keep a running tally of all clipboard activity in OS X and have it accessible through a menu bar item, but as heavy command line users know, having easy access to things without leaving the task at hand can be absolutely critical to maintaining workflow.
Separately, you'll also find the new Toolbelt feature of iTerm2 includes a handy little notes sheet, a profile manager, and a very nice jobs/process manager complete with signal sending. So while the occasional command line user may get by fine with using the default Terminal app bundled with OS X, power users will continue to find immense value in iTerm2 with it's speed and myriad of advanced features.
Maintain & Recall Command Line Clipboard History with iTerm 2 by 桔子小窝 is licensed under a Creative Commons Attribution-NonCommercial-ShareAlike 4.0 International License.